Neurofeedback Treatment for Concussions and Traumatic Brain Injuries
Have you suffered from a concussion or traumatic brain injury?
Brain injuries, concussions, or even minor head bumps can cause major brain damage, resulting in changes in brainwave activity. Over time, smaller head injuries, if not treated correctly, can accumulate, causing extensive damage.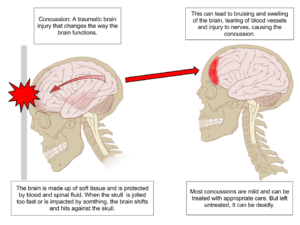 A concussion is a mild form of traumatic brain injury (TBI) caused by either an impact to the head or by the head moving rapidly back and forth due to a fall or other quick movement of the body.  Most concussions don't include a loss of consciousness, and in fact, it's possible to have a concussion and not even know it.  These injuries can cause severe neurological or psychological symptoms such as anger, sleep disruption, trouble concentrating, headaches, memory loss, and many other concerns.  These debilitating factors can affect a person even years after the incident has occurred.
How does neurofeedback help?
Dr. Baric and the MyBrainDR team have completed extensive training in various treatment options for concussions and traumatic brain injuries. Using a noninvasive qEEG, we are able to identify specific damaged areas in your brain. Neurofeedback uses the brain's neuroplasticity to make new neural pathways around the damaged areas of the brain, helping heal the brain, re-balance communication and restore brain functions.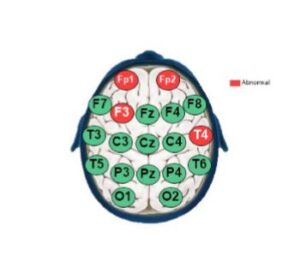 Baseline testing for Athletes
Neurofeedback is not only an effective treatment after a concussion but can also help capture normal brain activity before a traumatic brain event occurs. At MyBrainDR, many athletes come in for a preseason baseline qEEG. This allows us to document their brainwave activity, creating an accurate comparison point for future scans after the potentially injurious incident. Call us today to schedule a preseason qEEG! (919) 721-4800
Frequently Asked Question
Is Neurofeedback Therapy a clinically proven treatment for concussions and TBI's?
Yes, Neurofeedback Therapy is a clinically proven treatment for concussions and TBI's.
There are many research studies that show positive support for neurofeedback as a treatment for concussions and traumatic brain injuries. Please see a few examples below and don't hesitate to contact MyBrainDr for additional information and studies.
Quantitative EEG Neurometric Analysis-Guided Neurofeedback Treatment in Postconcussion Syndrome (PCS): Forty Cases. How Is Neurometric Analysis Important for the Treatment of PCS and as a Biomarker?
"In this clinical case series, the efficacy of quantitative EEG-guided neurofeedback in 40 subjects diagnosed with PCS was investigated. Overall improvement was seen in all the primary (Symptom Assessment-45 Questionnaire, Clinical Global Impressions Scale, Hamilton Depression Scale) and secondary measures (Minnesota Multiphasic Personality Inventory, Test of Variables for Attention)."
"The Neuroguide Traumatic Brain Index for the group also showed a decrease. Thirty-nine subjects were followed up long-term with an average follow-up length of 3.1 years (CI = 2.7-3.3). All but 2 subjects were stable and were off medication. Overall neurofeedback treatment was shown to be effective in this group of subjects studied."
Evaluation of differentiated Neurotherapy programs for a patient after severe TBI and long termcoma using event-related potentials.
"The rTMS program produced larger physiological and behavioral changes than did relative beta training. A combination of different neurotherapeutical approaches (such as neurofeedback, rTMS, tDCS) can be suggested for similar severe cases of TBI. ERPs can be used to assess functional brain changes induced by neurotherapeutical programs."
How do you know if this can help me or my loved one?
The first step is always a FREE Evaluation. During this one-on-one consultation, we will discuss your unique health history, current treatments, and if neurofeedback could be an effective treatment for you. No obligation. Call us at (919) 721-4800 or select the 'FREE Evaluation' button to schedule your FREE Evaluation today!